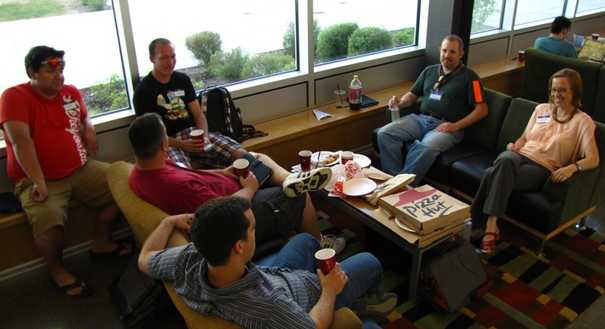 We are excited to add Shenoa Lawrence to the &yet team. She will be serving part-time as &yet's Community Coordinator, beginning last week.
Shenoa has taken a strong leadership role in our local tech community: <!doctype society>, Room to Think (our local coworking movement), and TriConf (a local barcamp &yet helped sponsor last weekend). She's also in the process of putting together weCreate, a local directory of people, projects, and products that make up our community. Her dedication and contributions have been a major part of the continued success of all of the above.
We want to affirm that dedication and empower her to continue it.
Shenoa is a veteran web developer and designer, and served as a leader of a community she was a part of in the San Francisco Bay Area. Members of our community have huge respect for Shenoa as an individual and as a contributor to the big success of our local dev community.
Since its first days, &yet has invested time and money in helping build our area's designer and developer community. Our team considers it one of the most important things we've been privileged to contribute to.
This is a continuation of those efforts.
We take a realistic view that community is something that emerges from intentionally cultivated soil--there are both mechanic and organic aspects to a good community, and both require hard work.
Since it began in February, <!doctype society> has gained over 70 members and drawn participants from Walla Walla, Yakima, and Spokane--but we know there are many more who should be a part of our local web development, and creative community. And our aspirations for these groups are bigger than mere social gatherings--we want to spark the founding of numerous startups in our area and help provide resources for them to succeed.
We're excited about what Shenoa has contributed so far to that end, thrilled to be able to team up with her further, and eagerly anticipate what's next.
Please thank Shenoa for her hard work and dedication and for being willing to take on this new challenge as a continuity of what she's already helped to build.