Ever wonder what other people's home office setups are like? Well my friend, wonder no more. (Okay, you can wonder a little. These are only the setups of a couple of people on our team, which probably do not represent the entirety of the human experience. But anyway. Enjoy.)
Where do you work?
Luke Karrys, Senior developer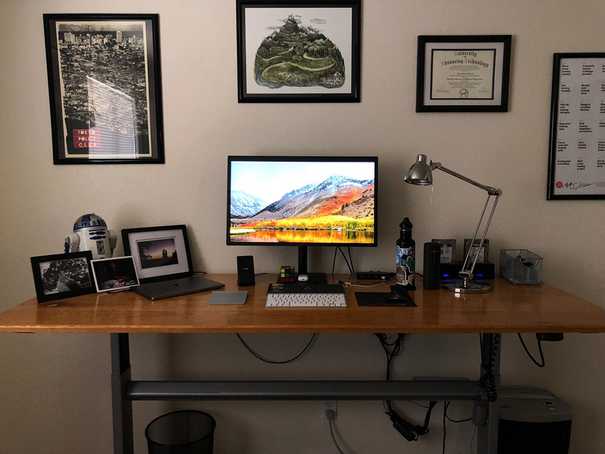 I work from a spare bedroom in my house. I also spend the very occasional afternoon working from a nearby coffee shop, but most of the time I prefer to work from the same spot every day. My home office only locks from the outside which means sometimes I have a system where I lock myself in to deter my 3 year old from busting in BBC style. Then I text my wife at the end of the day to let me out.
Kate Farrar, Designer, Developer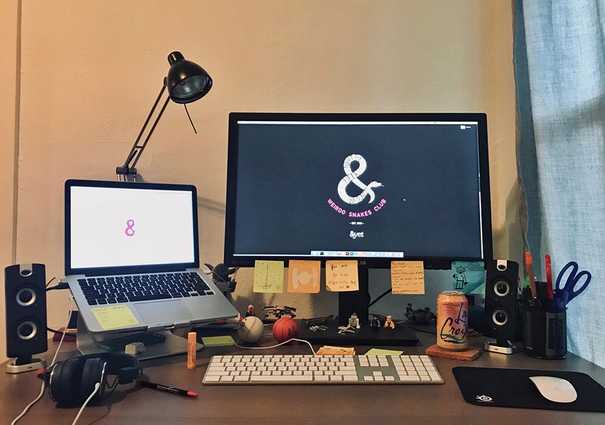 I have an extra bedroom in my house that I use as an office. At my old apartment I used to work in my living room, and I've found that being able to close the door and walk away at the end of the day is really nice. Having a separate space has been great for me!
Diana Perkins, Designer, Developer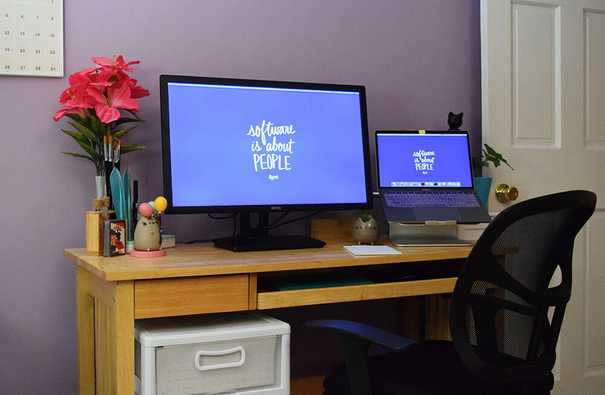 I have a separate office in my house. It was a necessity that we purchase a home with three bedrooms: one to sleep in, one for my home office, and one for my husband's home office.
Heather Young, Dev/Ops engineer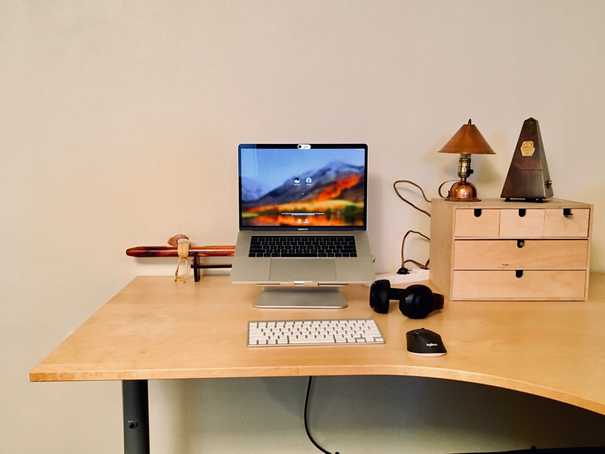 Home, one of many coffee shops, or a co-working space. I also travel alot so I work from coffee shops or other random spots pretty often.
What's your hardware setup?
Diana
Luke
I use a 2016 MacBook Pro that is in clamshell mode on my desk most of the time connected to an LG 5k monitor. I also have a previous generation Logitech MX Master mouse and a previous generation Apple Wireless Keyboard (before they were "magic") that I use because they're not broken, although I spend a lot of time looking at new keyboards and mice online.
Heather
Kate
What are your software programs du jour?
Diana
The obvious ones:
The not-obvious ones:
Kate
Heather
Work apps:
Cooking apps:
Luke
The programs I use most often are iTerm 2 and Sublime Text 3 which I use for coding. They are both very customized although it's in a Rube Goldberg fashion as I copied and pasted different bits from across the internet. I use Omnifocus for remembering to do stuff that I'm supposed to do and Fantastical for remembering if I'm supposed to be somewhere.
What's one good thing you try to practice every day?
Diana
I like to go outside during my lunch, or any time I need to think through a problem. For me, removing myself from my work area helps refresh my problem solving skills and energize me for the rest of the day.
Heather
I try to switch posture every hour or so and sit as little as possible when I'm not working. Using the Awareness app I mentioned helps to remind me to move around. When I'm at lunch I try to stand a lot and I try to get a sweat-inducing workout in every day, even if it's only 10 minutes.
Luke
Every day I try to write down the things I would like to accomplish and what hours I would like to work in my Studio Neat Panobook. This helps me keep what I'm doing and what hours I keep as intentional as possible. I also do this way less often than I should, and it's immediately obvious at the end of most days when I don't do it.
Kate
Standing up every few hours! Sometimes I'll go 5 hours without moving from my desk, which is not great. My Apple Watch reminds me to stand every hour so that helps.
Any other office recommendations?
Diana
I think this one is said often by people who work remotely, and it was a piece of advice I very much ignored until it became a problem for me: have a different area of your house where you work. Can I say it again? Have a different area of your house where you work. I used to sit all day and work at my computer, then eat dinner at my computer and play video games all night…at my computer. Both my productivity at work and my mental wellbeing at night suffered immensely; this is one piece of remote-work advice I don't recommend skipping. After separating my work / not-work areas, I've been more focused during the day and more relaxed at night.
Heather
Working remotely is awesome, and often has the advantage of affording more freedom than an office environment. Often I find that my inner voice of judgement says that I should be more productive in a day or I need to be available at my desk every minute of every day, but psychology research suggests that a 5-minute break every hour can do wonders for one's productivity and health. Here's an article with some great break ideas. Personally I've found that short but regular breaks during the day helps me to reset my attention and makes me happier about life in general.
Luke
Working from home has been a huge positive in my life. At the same time it has provided many "opportunities" to find "solutions" to see what works best for me. And many of the solutions stopped working when I moved or had kids or changed roles. So my only recommendation would be to keep evaluating what works and what doesn't on your amazing remote work journey.